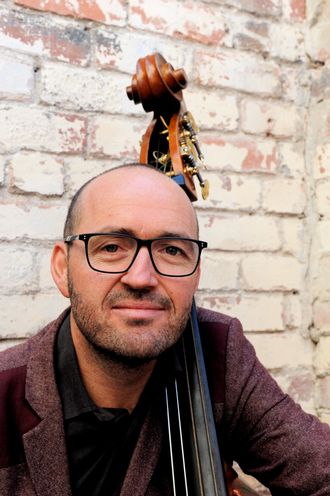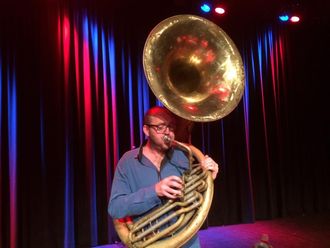 In recent years Mark's love of Theatre and Cabaret has seen him feature in many notable productions. 
- 'Meow Meow's Little Mermaid'
- 'Bernie Dieter's Little Death Club'
- 'Black Rider'
- 'Lorelei' 
- 'Man in Black'
2020 - January:
Electric Bass and Band Leader for month-long season of award winning boundary pushing Weimar Punk Kabaret phenomenon 'Bernie Dieter's Little Death Club' FringeWorld Perth. 
2019 - November & December: Double Bass & Electric Bass for Christmas in Leicester Square's 2-month season of Critically acclaimed Cabaret variety show 'La Clique'. 
  - August: Electric Bass for 'Bernie Dieter's Little Death Club' month-long sold out season at Edinburgh Fringe at Underbelly's Circus Hub in the Meadows. 
  - April through June: Electric Bass for 'Bernie Dieter's Little Death Club' at Southbank Festival, London. 
2018 - November & December: Double Bass & Electric Bass for Edinburgh's Christmas 2-month season of cabaret variety show 'La Clique Noël part deux' 
  - October: Victorian Opera & Malthouse Theatre production of 'Lorelei' starring Ali McGregor, playing the newly penned score on Double Bass as part of a hand-picked Chamber Orchestra conducted by Victorian Opera's Phoebe Briggs. 
  - May: Mark joined the Internationally acclaimed Cabaret show 'La Clique' for a month-long season as part of Brighton (UK) Fringe Festival. Being a variety show 'La Clique' utilised Mark's skills on both Double Bass & Electric Bass as it genre hopped between old school Jazz and Rock/Pop. 
2017 - Malthouse (Melbourne) Theatre's award-winning production of 'Meow Meow's Little Mermaid' toured nationally and also played Auckland International Arts Festival and Edinburgh International Festival. Mark's relationship with the Malthouse theatre continued in September of 2017 with a co-production between Victorian Opera and Malthouse Theatre. Tom Waits and William S. Burroughs' cult musical fable, 'Black Rider' starred Paul Capsis alongside Meow Meow and Kanen Breen and under the direction of Victorian Opera's Head of Music, Phoebe Briggs, Mark played Double Bass and Tuba in an 11-piece orchestra.
Mark took up the bass, tuba (and whatever else needed playing) chair with 'Blue Grassy Knoll' in 2011. Known for their live accompaniment to Buster Keaton silent movies, Blue Grassy Knoll has travelled extensively and earned international acclaim. Notably, BGK have played successful seasons in New York, London's West End and the World Expo in Shanghai.
Mark has been a part of the international Jazz scene since his first European tour back in 1997! 
Mark is in demand both in Australia and in the northern hemisphere for his infectious heavy groove and attention to style.  
2019 - January through March:
Resident Bassist accompanying weekly International guests at
'Cool Cats' club, Singapore.
Notable guests:   
  American pianist Nat Adderly Jr who for many years was music director for Luther Vandross. 
  American Singer Paulette McWilliams who has sung with legends including Michael Jackson and Aretha Franklin.
  UK singer Sulene Fleming who for many years fronted UK acid jazz & funk group 'The Brand New Heavies'. 
  - July: German tour with Pianist Christian Hopkins. Featuring violinist George Washingmachine (Aus) & guitarist David Blenkhorn (Fr). 
2018 - March of 2018 saw Mark collaborate with Cat Empire's front man, Harry James Angus. Harry's new concept band entitled 'Struggle with Glory' features original songs in the gospel style inspired by stories from Greek mythology. 'Struggle with Glory' was a feature act at Adelaide, Perth, & Mornington Peninsula Festivals.
2017 - Mark collaborated with Sydney jazz legends Dan Barnett (trombone), Bradford Child (saxophone) and Anthony Howe (drums). Together with Melbourne's Stephen Grant on piano, 'SwingRocket' toured Europe in 2016 and 2017, featured at the Havana Jazz Fest (Cuba 2018), and got hot at the Sancy Snow Fest (France 2018).